Endangered pygmy hippo born at Bristol Zoo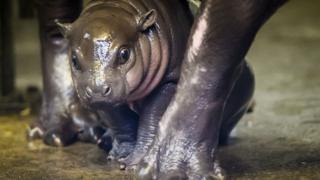 A baby pygmy hippo has been born at Bristol Zoo.
The calf, which has not yet been named or sexed, arrived almost three weeks ago.
The pygmy hippo is threatened in the wild, where it is thought less than 2,000 survive.
Lynsey Bugg, assistant curator of mammals at the zoo, said: "The calf is looking very strong and it certainly feeds well."