Eastville Workhouse's 'forgotten paupers' memorial unveiled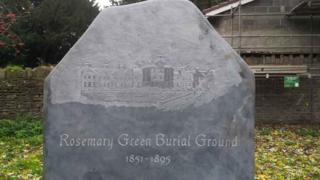 A 6ft memorial stone to mark the mass grave of thousands of people who died in a "notorious" Victorian workhouse has been unveiled in Bristol.
The burial ground, containing the bodies of 4,084 men, women and children who died at Eastville Workhouse, was left unmarked for more than 150 years.
Historians spent three years researching their names.
The Eastville Workhouse Memorial Group also hope to create a garden and plaque at the site of the workhouse gates.
Sculptor Matthew Billington, who created the Welsh slate standing stone, said: "It's a brief epitaph to the paupers who were buried on Rosemary Green, which I can see from my back door, just to say they are not forgotten any more."
Bristol Radical History Group (BRHG) spotted a disused burial ground at the site on a 1902 Ordnance Survey map and have spent years going through workhouse death registers to confirm the burials.
They discovered the names of those who died in the workhouse between 1851 and 1895 and were buried in Rosemary Green.
The group said the "notorious" Eastville workhouse, known as "100 Fishponds Road", was one of the largest in England and Wales. It became a residential home in the 1920s before being demolished in 1972, replaced by a housing estate.
Roger Ball, of the Bristol Radical History Group, said: "The feeling amongst all of us... is that we needed to mark this place, mark these people, both in terms of a memorial but also to get their names available to Bristolians who wanted to find out where their relatives were."