Laura McEwan: 999 call victim's energy debt cancelled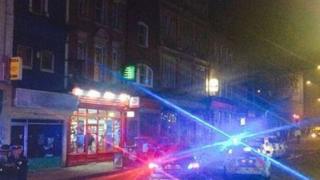 A woman who was left with serious brain injuries when she was hit by a police car on a 999 call has had her debts to an energy company cancelled.
Laura McEwan, 33, was knocked down on her birthday in Bristol last November.
Jim Davey, a friend who has been trying to organise Ms McEwan's paperwork while she recovers, said Npower claimed she owed them £1,289 in outstanding bills.
The company has now agreed to write off the outstanding balance "in light of the difficulties Laura is facing".
Mr Davey welcomed the move, saying it was a big relief for Laura and her family.
Bailiffs
Ms McEwan was in Stokes Croft when she was hit by the police car, which was responding to reports of a man with a knife making threats.
As a result of her injuries, she has been going through intensive rehabilitation.
Npower initially refused to deal with Mr Davey because he did not have formal power of attorney.
As a result, Ms McEwan's mother, aged in her 70s, was visited at home by bailiffs and threatened with court action.
Following the crash, an Independent Police Complaints Commission (IPCC) report recommended Avon and Somerset Police should improve its high-speed driver training.
But it said the "speed and manner" of the officer involved was "reasonable" and there was "no case" for the driver to answer.