Brain-injured woman Laura McEwan pursued by bailiffs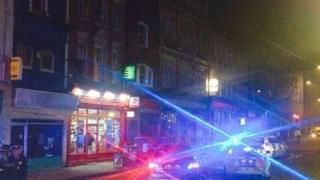 A woman left with a serious brain injury when she was hit by a police car has been threatened with court action over a debt with a power firm.
Laura McEwan, 33, was knocked down on her birthday in Bristol, last November.
Family friend Jim Davey said Npower claim Ms McEwan owes them £1,289, but had "failed repeatedly to acknowledge or deal with the situation".
Npower said it was "sorry" and would "place a hold on the account" while Mr Davey obtains a power of attorney.
Ms McEwan was in Stokes Croft when she was hit by the police car, which was on an emergency call at the time responding to reports of a man making threats with a knife.
'Security of data'
A hospital letter describes her as currently undergoing "intensive rehabilitation" having suffered a "traumatic brain injury" which has left her "unable to sign forms".
Mr Davey said he was acting on Ms McEwan's behalf, as her litigation friend, but he does not have power of attorney which Npower insists he needs.
He claimed the debt collectors had started visiting Ms McEwan's mother, aged in her 70s, "to reclaim the debt under the threat of court action".
---
Power of attorney
Power of attorney allows you to choose someone else to deal with third parties on your behalf, for example banks or the local council.
This could be because someone is temporarily unable to deal with things, being ill or in hospital, for example.
A power of attorney can be put in place by your nominee at any time, as long as they are capable of making their own decisions (they have the mental capacity) at the time the document is signed.
Source: Which?
---
An Npower spokesman said: "The security of our customers' data is of utmost importance and we will need permission from Laura or a solicitor.
"In the meantime, we have place a hold on the account and are also looking at a reduction in the outstanding balance as a goodwill gesture."
'No case to answer'
He added the firm needed power of attorney from the solicitors "to be able to discuss the account details with Jim" and asked Mr Davey to contact their case handler.
Following the crash, an Independent Police Complaints Commission (IPCC) report recommended Avon and Somerset police "addressed the shortfall" of fast response trainers.
It concluded high-speed police driver training should be improved.
But it said the "speed and manner" of the officer involved was "reasonable" and there was "no case to answer" for the driver.