Bristol's St Pauls carnival 'event' to go ahead despite funding cut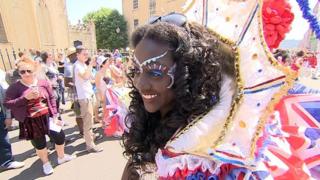 Organisers of Bristol's St Pauls carnival have pledged to stage an event next July despite the withdrawal of its £150,000 funding.
St Pauls Afrikan Caribbean Carnival (SPACC) said a carnival "will go on" despite Bristol City Council and Arts Council England stopping its support.
Bristol Major George Ferguson said the event had "grown beyond" the board's "capability" and needed to be replaced.
But SPACC's Cleo Lake, said: "The city council hasn't supported me at all."
Dating back to the 1960s, the annual carnival is a celebration of the city's African-Caribbean culture which is normally held in July.
But in the last four years, it has been cancelled twice and Mr Ferguson said the "major event" now needed an organisation to "match up" to it.
'Not good enough'
"If we're going to hand over money we've got to be sure it's in the proper hands and that they are capable of delivering a safe and good carnival and I'm afraid we lost faith in that happening," he said.
"We've ring-fenced the money and we will have St Pauls Carnival back but we've got to be sure it [funding] is put to the right use and produces a good carnival."
In a statement, SPACC said it had worked tirelessly to meet funding conditions "against a backdrop of barriers and hurdles" and was "very disappointed".
Festival organiser Ms Lake said she had been "very offended" by the decision.
"I've tried to do the best that I can with a very difficult situation," she said.
"We're a very small team and we have tried tirelessly to meet all of the [city council's] conditions but whatever we do is not good enough.
"The city council hasn't supported me at all."