Tank buyer has to move out of two-bedroom flat near Bristol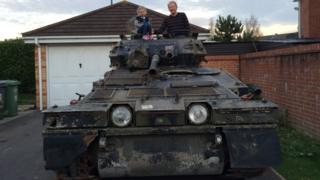 A man living in a two-bedroom flat near Bristol has had to move house after winning a tank in an online auction.
Jeff Woolmer put a bid on the seven-tonne ex-Canadian army tank on a specialist auction site.
He said: "I'd forgotten all about it and then at work I had a call saying 'Hello sir you've just bought a tank'."
With "tank parking a bit of a problem" at his flat, Mr Woolmer said he has had to move to a larger house on the outskirts of the city to park it.
Mr Woolmer, who works as a stress engineer on the Bloodhound Project in Avonmouth, said he bought the tank for £9,000 from Witham Specialist Vehicles.
"I had a bid on one and then I had a phone call at work and of course everyone in the office was laughing at me," he said.
"I was living in a flat at the time so we had to have a look around for a house with a nice bit of space to park the tank on the drive."
With a top speed of 50mph (80 km/h) and boasting a 75mm cannon, the CVRT Scorpion light tank is now parked up in the driveway on a housing estate in Bradley Stoke.
And Mr Woolmer, who has become known in the area as the Tank Man, said he thinks it "looks at home".
"It weighs about seven tonnes - which in terms of tanks is a little baby tank really," he said.
"The guns are all disarmed obviously but I do plan to try and get it running - once the batteries are charged we'll see if the electrics come to life and then try and start it up."