Bristol campaign group starts works on first empty office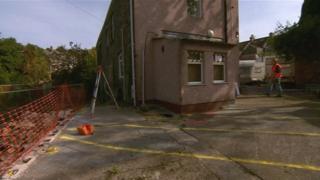 A campaign group has started work on converting a disused office space in Bristol into affordable housing.
Abolish Empty Office Blocks (AEOB) raised nearly £300,000 through a Community Share Offer to buy the former business in Battens Lane in St George.
The redundant workspace is due to be refitted and extended to create six flats, housing up to 10 people.
Tony Crofts, from AEOB, said: "It will take 14 to 16 months so sometime in 2016 we'll have people moving in."
The converted building will include two­-bedroom, one­-bedroom and studio flats, a communal room, shared garden and workshop.
'Sweat equity'
Once complete, the AEOB-owned property will be managed by a tenants' co-operative.
"Bristol currently has over two million square feet of un-let offices which are now just boarded up and left as slums, which is criminal when there are 14,750 people on the housing waiting list," said Mr Crofts.
"We already have a group of prospective residents who are prepared to put in sweat equity - working on the building - and who are looking forward to having long-term, permanently affordable accommodation."