Bristol tree project: Lack of falling nuts upsets musical plan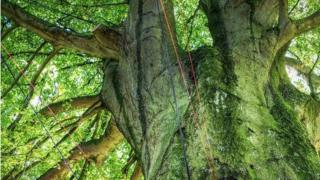 A £37,000 project to make music from the sound of beech-mast falling from a tree in Bristol has had to be revised, as there are no nuts.
Treesong was funded by Bristol 2015 to record the nuts dropping from a 100-year-old tree on Durdham Downs.
Instead, the stresses, strains and movement of the beech are being captured.
Andrew Garrad, from Bristol 2015, said it was a shame, but the tree was still "singing by other means".
A canopy fitted with sensors and recording equipment under its branches was supposed to record the vibrations as the fruits fell and emit a musical note.
The resulting raw soundtrack would then be "translated" by Bristol composer William Goodchild into a 15-minute orchestral work.
---
Beech tree facts
Fagus sylvatica is a large, deciduous tree
Flowers: Male and female flowers grow on the same tree
Fruit: One or two beech nuts, or seeds, (known as beech-mast) are enclosed in a woody cup
Mast years: Some tree species produce very large crops in some years, and none in others. The exact reason is not known, but it may be linked to weather and climatic conditions
Sources: Woodland Trust, Forestry Commission
---
Mr Garrad said although the sound of nuts falling had been a significant part of the project "the point of it" was to have a singing tree.
"Of course it would have been nice to have the nuts, but that's only part of it," he said.
"It is a strange thing, but it is attracting attention to the trees and people are starting to think about the trees."
Jony Easterby, the artist behind the project, said organisers had soon realised it was "not a beech-mast year".
"Nature is never as convenient as you'd like it to be," he said.
"But I managed to track down 40 unwanted violin bows and we have a wooden collar around the tree with strings stretched down to the ground and the idea is to capture the stresses and strains and movement of the tree."
Treesong is to be performed by the Bristol Ensemble at the end of November.