'Addiction choir' sings at Bristol's Recovery Festival
By Caroline Le Marechal
BBC News, Bristol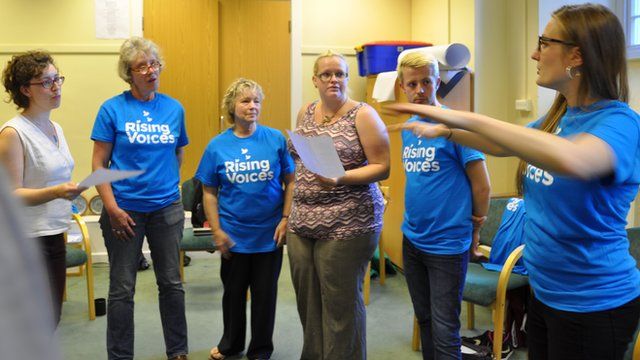 People recovering from drink, drug and addiction problems have formed a choir aimed at rebuilding confidence and inspiring others.
The choir, Rising Voices, is making one of its first public performances at the city's Recovery Festival to celebrate the achievements of those in recovery.
Choir leader Isolde Freeth-Hale said the growing group was receiving "more and more performance invitations".
The choir meets weekly at its base at Bristol Drugs Project.
Ms Freeth-Hale said leading the choir, which has about 20 members, had been "one of the most moving and rewarding experiences I've had as a musician" and she described the group as "an incredible bunch of individuals".
A classically trained singer and a chorister from the age of five, Mikey joined Rising Voices to rebuild his confidence.
He said: "As my addiction progressed, I stopped doing it all. I wanted to get back into it but my confidence was shattered.
"I wanted to go back and join an ordinary choir, but was afraid as I hadn't done it for a long time, so this is to ease myself back into it. It's good to meet people in recovery with similar interests."
Another member, Harriet, said her recovery related to problems with debt and overspending.
"I don't have a history of substance abuse," she said. "It's good to be in a group where there's a variety of different people and the places we've come from.
"I just really like singing - it is uplifting. It's nice to do as part of a group. I appreciate it's informal, I can just drop in."
Ms Freeth-Hale said: "Choirs are a very special form of music-making. All you need is your voice and a group of people, and this makes them very accessible and everyday.
"They don't need to be called 'therapy', as their therapeutic effect is a natural by-product of the act of coming together to share something beautiful and uplifting.
"I think choirs are perfect for anyone who is recovering from a difficult time in their life."
Maggie Telfer, from Bristol Drugs Project, which set up the choir, said: "I think the main benefit it is doing something which gives you pleasure and gives pleasure to other people.
"Performing before hundreds of people, that's going to be fantastic for their confidence. It's a demonstration to other people 'look I've been there' - it's inspirational for others who are still struggling with their own drug and alcohol problems - it makes recovery very visible."
The choir's next challenge is to prepare for Bristol's memorial service, in December, to remember those who have died in addiction. Ms Freeth-Hale said it would be a "deeply moving experience for many".
Related Internet Links
The BBC is not responsible for the content of external sites.