Virgin Care in running for £28m Bristol NHS contract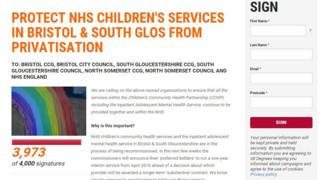 Campaigners have raised concerns a private firm could win a £28m contract to provide children's community health services in Bristol.
Virgin Care is one of two bidders in the running to provide NHS services such as school nurses, health visitors and community mental health services.
The firm provides some children's health services in Devon and Surrey.
More than 4,000 people have signed an online petition against the move in Bristol on the 38 Degrees website.
Dr Charlotte Paterson, from campaign group Protect Our NHS, said: "I think it's a shameful thing for the (GP-led clinical commissioning group) possibly to allow Virgin to come in and make a profit out of our most vulnerable people in Bristol, children."
She argued that children's health services needed to be integrated with social care and education.
The contract has been provided by North Bristol NHS Trust. But the trust, which faces financial pressures, decided not to bid to run it again from April 2016, saying it want to concentrate on "acute and hospital based care".
Services provided include children's community paediatrics, community mental health services and the Riverside Adolescent Inpatient service.
Virgin Care is one of two providers shortlisted for a contract to provide services until April 2017. The other is a partnership between not-for-profit organisations, community health providers and an NHS trust.
The Bristol Clinical Commissioning Group said the safety of the service was of "paramount importance".
It said after an interim contract was awarded in October "there will be no change to the care and support provided." Services would remain free for users.
Virgin Care would not comment further while it was "involved in a procurement process".
Allowing private sector firms to provide NHS services in England has proved controversial.
Critics warn firms will be able to cherry-pick the most profitable services, destabilising the NHS, while private companies say they can improve the health service, bringing innovation and efficiency.