Transport chiefs drop Henbury Loop plan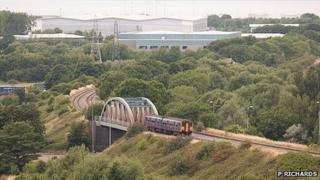 Councillors have dropped plans to create a railway "loop" connecting Filton in north Bristol with Avonmouth, after it was deemed too risky.
A business case for major rail upgrade options recommended a "spur" line stopping at Henbury instead of a loop.
The West of England's Joint Transport Board backed the report - the spur line is expected to open by 2021.
Bristol North West MP Charlotte Leslie said the report was flawed and the decision was "extraordinary".
The Henbury Loop line currently carries freight between Filton and Avonmouth, but closed to passengers in 1964.
Ms Leslie argued that re-opening it to passengers would ease congestion as thousands of homes are built around the former Filton Airfield and it would improve access to jobs in Avonmouth and Severnside.
"The Henbury Loop is not only viable, it's absolutely necessary and we want the business case to reflect that," she said.
Responding to Ms Leslie's comments, the board said, while it had approved the spur option, it was not ruling out the loop in the longer term.
"We can get on and do the spur now or wait for the loop but this could add another two to four years to the project and we risk losing some of the funding," a spokesman said.
But campaign groups Transport for Greater Bristol Alliance and the Friends of Bristol Suburban Railways described the report as "fatally flawed".
They said much of the industrial area around Avonmouth had no public transport - those without a private car had difficulty accessing the area and only rail services on the Henbury Loop could provide a solution.
The Local Enterprise Partnership said the loop would be more disruptive to traffic and would require £3m a year of financial support while the spur would break even by 2034.