Almondsbury green belt helicopter base wins backing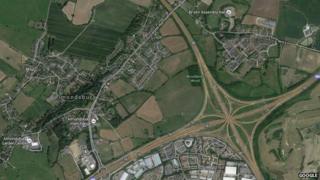 Plans to build a new helicopter base on green belt land have been backed by South Gloucestershire Council.
But the base near the M4/M5 interchange at Almondsbury must get support from the government before planning permission can be granted.
The National Police Air Service (NPAS) and Great Western Air Ambulance Charity welcomed the decision and hoped for a "positive outcome" from the government.
Critics say the new base will "destroy the rural character" of the village.
The proposals include a hangar, car park, Met Office weather station and new access to the A38.
The NPAS and Great Western Air Ambulance are both based at Filton Airfield which is to be redeveloped into homes and businesses.
South Gloucestershire Council voted to approve the new base on Tuesday, but because it is on green belt land it must go to Communities Secretary Greg Clark who has 21 days to decide whether or not to "call in" the application.
The earliest the base would open would be mid-2016.
Great Western Air Ambulance's John Christensen said: "We look forward to a positive outcome and keeping the Air Ambulance and the Police Air Service operations in the region".
But Almondsbury Parish Councillor Andy Tubb said there were fears about traffic on congested roads and noise pollution.
Although there was already noise from the motorways, he said unpredictable helicopter noise was "a different beast".