Five guilty in assisting Bristol killer Luchiano Barnes escape to US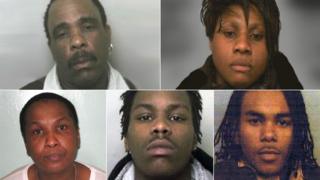 The father and three family friends of a convicted murderer have been found guilty of helping him escape to the US after a fatal stabbing in Bristol.
Luchiano Barnes, 19, was caught on CCTV at Heathrow, after killing Nicholas Robinson, 19, in March last year.
Father Patrick Barnes, 51, and three friends were found guilty of assisting an offender. Mother Rachel Lewis, 45, pleaded guilty before the trial.
Bristol Crown Court has yet to fix a sentencing date.
Luchiano Barnes was jailed for life last month for murdering Nicholas Robinson, who was stabbed on 5 March 2014, in revenge over a firearms deal which "went sour".
Along with Barnes's father, three friends were also found guilty of assisting an offender - Frederica Critchlow, 49, from Enfield, north London; her son Junior Hutchinson, 21; and Kirk Barclay, 24, both from Bristol.
The day after the killing, Barnes and Hutchinson went to London and stayed with Ms Critchlow.
Det Ch Insp Andy Bevan, from Avon and Somerset Police, said each of the five had "played a pivotal role in helping Luchiano Barnes leave the country".
He said: "After ambushing and brutally killing Nicholas, Barnes initially enlisted the help of his friends Junior Hutchinson and Kirk Barclay to aid with his escape plan."
He said Rachel Lewis was in phone contact with Critchlow and Patrick Barnes paid £450 into Critchlow's bank account.
Det Ch Insp Bevan said: "On 7 March, Critchlow used this money to buy Luchiano Barnes a flight to New York and she drove him to Heathrow Airport to catch the flight the following day. He remained in the US for almost a month.
"I hope these convictions bring some form of comfort to Nicholas' family who've had to endure a long wait for justice to be done."