Ashton Gate stand demolition under way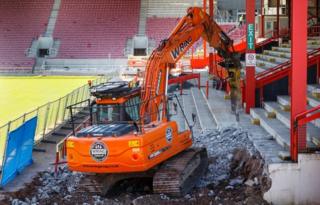 Demolition of one of the main stands at the Ashton Gate, used by Bristol City and Bristol Rugby, has begun.
A hydraulic breaker has been used to remove concrete at the front of the almost 60-year-old Williams Stand, ahead of it being taken down.
When the demolition has been completed work will begin on building a new 11,000 seat, two-tier West Stand.
Work is already under way on a new South Stand and on refurbishing the Dolman Stand as part of a £45m scheme.