Bristol's landfill rise debated in urgent council talks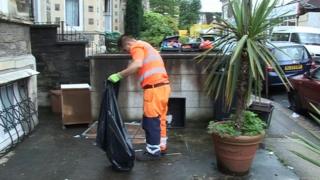 Talks are being held by politicians in Bristol to decide what can be done about the increasing amount of rubbish being sent to landfill.
Bristol, which is the current European Green Capital, has seen 18% more household rubbish thrown out in the past year.
The BBC understands waste operators May Gurney will be questioned by city councillors.
Bristol City Council's cabinet meeting begins at 18:00 BST.
May Gurney, which is now owned by Keir, received the £14m-a-year waste contract four years ago and there are another three years to run on the deal.
With a target of reducing residual household waste from 67% of total waste to under 50% by 2018, the company admitted in 2012 that it had made losses on the contract.
'Ship to Sweden'
As a result of household rubbish rates going up, recycling rates and the amount sent to landfill have also increased.
In 2012-13, some 43,000 tonnes was sent to landfill and in 2014-15 this had risen to 52,000 tonnes.
Last week, the council opted to ship some of its waste to Sweden to shred and burn for energy, as a way of avoiding more rubbish going to landfill.
Both Bristol City Council and May Gurney have declined to comment ahead of the meeting.