Metrobus protest site costing £200k a month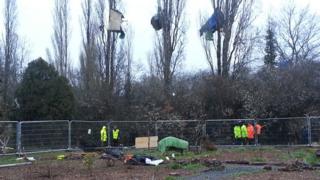 Keeping protesters off the site of a new bus junction for Bristol's multi-million pound Metrobus scheme is costing more than £200,000 a month.
Protesters were removed in March but security staff remain at the site due to "regular and repeated attempts" to get back onto Stapleton Allotments.
"Intensive security" will be needed until September, a council report says.
Costs hit a peak in April - blamed on the Easter bank holiday - when they reached £258,984.
The figures are outlined in a report to South Gloucestershire Council due to be discussed on Thursday.
Verbal intimidation
Protesters moved onto the council-owned site in February in a bid to stop trees being felled to make way for segregated lanes for the new Metrobus scheme.
The report says security costs at the site have grown from £81,306 in February to £202,105 in March and £258,984 by April.
"The impact of recent bank holidays and ongoing threat of further occupations has intensified the security requirements at the site," the report says.
The West of England Local Enterprise Partnership - which represents the councils involved in the scheme - said the cost would have to be met from public funds and was "regrettable, but necessary".
Staff have been subject to "verbal intimidation" and attempts to halt works, a spokesman said.
South Gloucestershire Council will discuss whether they need to put the security contract out to tender or change the existing commissioning arrangements on Thursday.