Terror police to learn lessons over 'IS risk' teenagers after passport mistake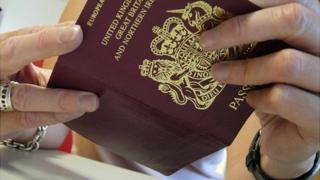 Police say they will "learn lessons" after wrongly returning a teenager's passport, amid fears she might travel to an Islamic State-controlled area.
The 17-year-old from Bristol had her passport seized in April after being stopped at Bristol Airport with a one-way ticket to Turkey.
But Avon and Somerset police returned it, because they thought they could only keep it for two weeks.
A High Court judge said they could have taken civil court action to keep it.
Ward of court
The girl, who is of Somali origin, has been made a ward of court until she turns 18 which prevents her from travelling abroad without a judge's permission.
Her passport has also been seized.
Mr Justice Hayden, in a hearing in the Family Division of the High Court in London, said: "The police, quite wrongly in my view, took the view that they were constrained to return the passport.
"They were not."
'Lessons will be learned'
He said he wanted all counter-terrorism units working with radicalised teenagers to understand the options available to them.
"An immediate telephone application [to the High Court] could have been made," he said.
Barrister Amy Clarke, representing Avon and Somerset Police, told the judge: "Undoubtedly lessons will be learned.
"What you have said will be taken in and considered very carefully."
Officers involved were members of the South West Counter Terrorism Intelligence Unit.
The hearing was prompted by concerns raised by social services staff at Bristol City Council.
The court has heard that one of the girl's relatives had asked for the passport to be returned so she could attend a wedding in Scandinavia.
Neither the girl, nor her family, have challenged the decision since to make her a ward of court.