Christ Church damaged spire in Bristol assessed for repairs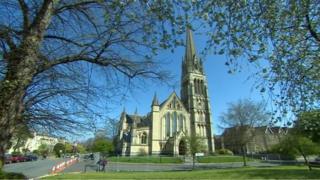 Structural engineers are examining a 213ft (65m) church spire in Bristol to assess damage that has forced the building to close for safety reasons.
Christ Church in Clifton has been shut since the week after Easter after high winds damaged the spire.
Mortar around the top of the spire is believed to have fractured, causing the top to lean towards the church roof.
Parts of Clifton Down Road surrounding the church have had to be closed to ensure public safety.
The vicar of Christ Church, the Reverend Paul Langham, said he is hopeful a stone mason will be able to make a temporary repair allowing the building and roads to be reopened.
Once the engineers have carried out their assessment a more detailed plan can be made for lasting repairs to be carried out.
The last time work was carried out on the steeple was in the mid-1980s.