Southmead Hospital: Drive to tackle 'illegal' parking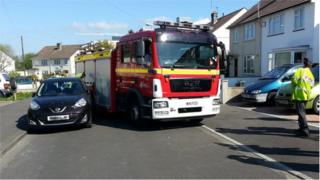 Owners of illegally or inconsiderately parked cars around a Bristol hospital have been fined or given leaflets detailing the problems it can cause.
Director of Facilities at Southmead Hospital, Simon Wood said: "It has been a concern for us for a long time about the way people park."
He said parking had become a bigger problem since the hospital opened last year after an extensive £430m rebuild.
He also plans to reprimand staff caught contributing to the parking problems.
Mr Wood said: "We will take action if we can specifically identify someone that's doing something that's causing the trust's reputation to be damaged."
He said disciplinary action had been taken against staff for the inappropriate use of their on-site permits but not for anyone who had parked outside the hospital grounds.
Emergency services are concerned illegal parking could block access in and out of the hospital.
Insp Mark Runacres, from Avon and Somerset Police, said: "Where necessary, we will issue fines or tow vehicles if they obstruct an emergency vehicle from getting to an emergency call."