Anti-slip resurfacing begins on 'cheese-grater' bridge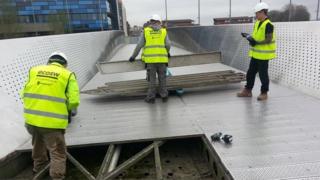 Resurfacing work has begun on an award-winning Bristol bridge which cyclists claim is hazardous in wet weather.
Eco South West, who are carrying out the work, said sections of the 180ft (55m) Meads Reach structure will be dismantled and taken away to be sprayed with an anti-slip coating.
The stainless steel bridge is part of the Bristol to Bath cycle track.
The bridge, built in 2008, is perforated with 55,000 holes - earning it the nickname "the cheese-grater".
In 2009, the £2.4m structure won a Royal Institute of British Architecture award.
However, cyclist Toby Bridgman, who had to go to hospital after coming off his bike on the bridge, set up a 600-strong petition calling on Bristol City Council to force the owner to make safety improvements.
Mr Bridgeman said people had been "consistently falling of their bikes".
Bristol City Council said it was confident the resurfacing work will provide a "robust anti-slip solution that will last for decades".