Bristol school pupils play bowls to beat stress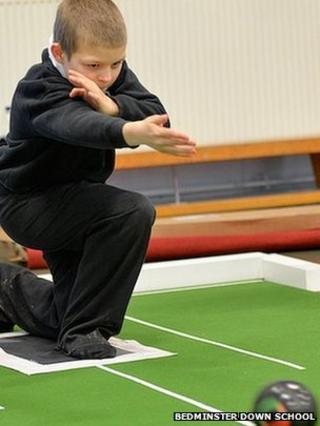 The sport of bowls has been introduced at a school in Bristol in a bid to help students "de-stress" ahead of exams.
Bedminster Down School has used a £1,000 grant from the police and crime commissioner's fund to pay for a roll-out bowling 'green' and set of bowls
The new after-school club has attracted students from across year groups.
Steve Priday, head of citizenship, said: "I wanted to try something new, low-cost but with high skill levels and bowls has suited the brief entirely."
The secondary school has just under 1,000 pupils aged between 11 and 16 and offers after-school clubs including judo, streetdance and cheerleading.
Despite its reputation for being a sedate pastime for older people, students have described short-mat bowls as being "really good fun".
"In the run-up to exams it is a great way to de-stress," said Mr Priday.
"Now I'd love to find some other schools offering bowls so we could start competitions."