Bristol tree protesters face additional court order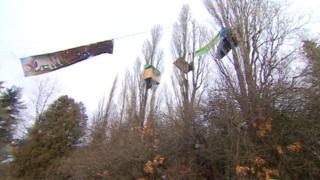 A council wanting to evict a group of tree-top protesters in Bristol has been granted further permission in court.
Campaigners for the Rising Up group are unhappy about a proposed new bus route and have been perched in the trees at Stapleton Allotments for over a month.
They want to stop trees being cut down to make way for a bus-only junction.
Bristol City Council said the second order was needed from the High Court as the "scale of the protest includes land not covered by the first".
'Peaceful'
It says its top priority "is to safely and effectively bring a resolution to this protest" and it urged the protesters to vacate the land.
However, Belinda Faulkes, from the Rising Up Collective, said some people felt so strongly about the cause that they would not step away willingly.
"Everybody involved is very peaceful and non-violent," she said, adding there was still hope the Metrobus scheme would be stopped .
The proposal for the council-owned land at Stapleton Allotments is to create segregated lanes for the £200m project.