Bristol Pounds reissued: Artwork needed for notes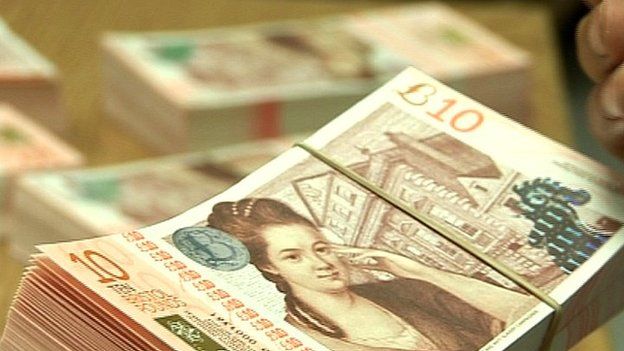 Two and a half years after the launch of the UK's only citywide currency, designs are being sought for new Bristol Pound notes to be issued.
The community currency was launched in September 2012 with the aim of making sure money earned in the city is also spent in local businesses.
More than 750 Bristol firms have traded in them and there are currently more than 350,000 £B's in circulation.
A competition to design the new notes will close on 16 March.
Bank of England rules state the original notes must be recalled and reissued by the end of this year.
Eight designs for the front and back of four different notes - £B1, £B5, £B10 and £B20 - will be chosen by a panel of judges, including Daddy G from Bristol band Massive Attack.
The competition is open to everyone who lives, works or learns in Bristol and the new notes will be issued in June.
Dave Harvey, BBC West Business Correspondent
It was not the first alternative currency, but the Bristol Pound rapidly became the UK's largest rival to Sterling.
Two and a half years after the launch, there is now £1m of business every year traded in Bristol Pounds. It is accepted by 782 firms, making it one of the most popular local trading schemes in the world.
Yes, there are lots of coffee shops, organic delis and places to mend your bike. The heartlands of Bristol's alternative, counter-capitalist scene have embraced the vivid, exclusively local currency. But there are also plumbers, an architects' firm, even lawyers who take the alternative currency.
It's worth remembering that the Bristol Pound is more than just a novelty note, more than a shopping voucher. It is a challenge.
Hundreds of shops now proclaim they "love the local", and source their products close to home. Spend a Bristol fiver with them, and you are throwing down the gauntlet. They have to spend your money with another Bristol firm, or lose it.
About a quarter of Bristol Pound transactions are currently carried out using paper notes, the rest are done electronically - either by mobile phone "text to pay" or by online trading.
Bristol Pound director Ciaran Mundy said: "Last time we were amazed at the quality of entries and the designs that were produced.
"We're looking forward to seeing what this creative city comes up with this year, especially with all eyes on Bristol as European Green Capital 2015."
Related Internet Links
The BBC is not responsible for the content of external sites.