Yate couple's carbon monoxide deaths prompt boiler warning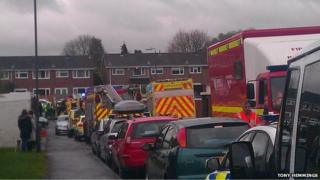 A Bristol couple who died from carbon monoxide poisoning had not had their boiler serviced in more than 10 years, an inquest has heard.
Jonathan Coster, 46, and wife Deborah, 60, were found dead at their home in Cherington, Yate, in November.
An inquest at Flax Bourton heard the boiler was in poor condition and four internal flues were "completely blocked".
Assistant coroner Peter Harrowing recorded a narrative verdict.
He stressed the importance of regularly maintaining boilers.
Tests revealed the appliance was releasing gases containing 1,368 parts per million of carbon monoxide, over the course of two hours in the Costers' home.
Concentrations of 500ppm can be fatal.
A carbon monoxide detector alarm will sound if it records a concentration of just 35ppm, the inquest heard.