'Fog bridge' created across Bristol harbourside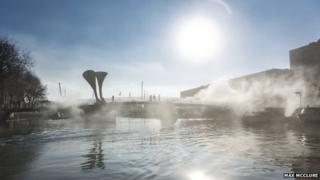 A Japanese artist has created a "fog bridge" across Bristol's harbourside to celebrate the city's status as European Green Capital.
Pero's Bridge will disappear behind a changing veil of fog to invite visitors to consider a changing climate and how it might disrupt their lives.
Fujiko Nakaya creates clouds by pumping water at high pressure through micro-fine nozzles.
Fog Bridge will run in Bristol until 22 February.
The weather artist's fog works have been commissioned for public spaces around the world, including Tokyo, San Francisco and New York City.
It is the first time she has presented an artwork in the UK.
She said she wanted to "change the image of fog", which she has used as a sculptural medium for more than 40 years.
"You can't drive; it's a hazard on highways, airplanes can't land. I just want people to start loving nature rather than calling it bad names," she said.
"Walking inside fog, people are suddenly confronted with white darkness, but soon they find themselves trying to use all the senses other than the visual to orient themselves," she said.
"People love the feel of fog on their skin: immersed, wet and cold, but gentle and soothing. It's a primary experience."
Fog Bridge is presented by production company In Between Time in association with Bristol 2015, European Green Capital.
Dr Anna Rutherford, executive director of In Between Time, said: "Fog Bridge allows us all to think more widely about climate disruption, and on a smaller scale, the artist's own working methods, her collaboration with the elements, water and wind currents, is a reminder of our own need to collaborate more with the natural environment."