Bath tipper truck death girl Mitzi Rosanna Steady 'missed by all'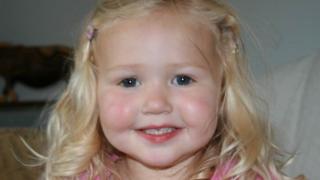 Tributes have been paid to a four-year-old girl who was killed when she was struck by a tipper truck while walking with her grandmother in Bath.
Mitzi Rosanna Steady died in the accident on Lansdown Lane, on Monday.
Two men from Swansea, named locally as Stephen Vaughan, 34 and Phil Allen, 52, and a third man from south Wales were killed when the car they were in was crushed by the truck.
Mitzi's family said she would be "loved and missed by us all".
The injured grandmother remains in a critical condition in hospital.
One of the men killed in the car was a 59-year-old from Cwmbran but has not been named. The others were chauffeur Mr Vaughan and businessman Mr Allen.
Mr Vaughan, business manager of Swansea-based EliteXecutive Travel, was married and lived in Penyrheol, Swansea.
He had been hired to collect the other two men from Bath.
Mr Allen, from Cardiff-based electricity company Western Power, was married with two children and lived in Loughor, Swansea.
'Tragic incident'
Three other people, including the lorry driver, were being treated in hospital for minor injuries but have now all been discharged.
BBC reporter Andrew Plant said the driver of the tipper truck was thought to be aged 19.
Police said he would be interviewed about the crash "as soon as he is well enough".
Rob Ollis, who took the truck driver into his home after the accident, said he was "in shock".
"He said he couldn't see the children on the crossing and was just fighting with his brakes, and he just couldn't stop the truck and [it] turned over," Mr Ollis said.
A tipper truck is an open-topped lorry that can be raised at the front end to unload its contents.
Ch Insp Norman Pascal, of Avon and Somerset Police, said after striking Mitzi and her grandmother, the truck carried on down the road for around 200 yds (180m).
"The tipper truck has been recovered and will undergo a full examination," he said.
"The truck driver has been spoken to briefly and he is still in hospital. I know he is injured but he is not critical."
He added it was not clear whether Mitzi and her grandmother had been trying to cross the road when they were hit by the truck.
Police said Lansdown Lane had now reopened but officers were still in the area as investigations continued.
---
At the scene: Rhiannon Beacham, BBC News
Lansdown Lane was closed to allow a clean-up operation to get under way.
A crane and workers with shovels are clearing the sand and debris flung from the tipper truck when it overturned.
A growing number of floral tributes, cuddly toys and pink heart-shaped balloons are also being left at the corner of the police tape preventing access to the street, by mums and their young children.
A message on one bunch of flowers reads: "Always in our hearts, your angelic smile will never fade xxx". Another message reads: "Our thoughts are with you at this awful time"
---
The accident happened close to Weston All Saints Primary School. The school was closed on Tuesday.
A statement from head teacher Anne Bull said: "I would like to extend our heartfelt condolences to the families and friends of those who died yesterday.
"This is a truly shocking event that has been deeply felt by the local community."
Ms Bull said bereavement counselling would be available for any pupils affected by the tragedy.
At a church service held at All Saints Church, rector the Reverend Patrick Whitworth said a "beautiful sunny day" had quickly turned to tragedy.
A "thoughts and prayers" board has also been erected near the scene of the accident for people to leave their own personal messages.
One read: "Our hearts go out in love and prayer to all involved in this accident." Another said: "We mourn with you."
Bath City FC held a minute's silence ahead of their FA Trophy quarter-final at Twerton Park, in memory of the victims.
Rescue attempt
Brian Fisher, 53, who was working near the site of the crash when it happened, said: "It was carnage, absolute carnage."
He and colleague Karl Morgan, 32, tried to help the injured.
"We rushed there and tried to do what we could to help," Mr Fisher said. "I didn't get as far as the little girl; I helped get a pregnant woman out of her car who had abdominal pains. Karl found the little girl.
"We went to the silver car in which the three people died. We didn't see it at first; it was at the other side of the lorry.
"We rushed there and tried to do what we could, to lift bits of the car off and get them out, but you wouldn't recognise it as a car.
"I couldn't even tell you what make it was - the damage was that bad.
"There was a nurse who tried to clear a guy's airway but it didn't work. I don't know where they found the third person because we only found two.
"I spoke to a police officer who said that in 25 years he had never seen anything like this."
Sean McCostlin, who lives on Lansdown Lane, described the incident as "shocking".
"I heard the horn [of the truck] blare about twice and it went really quickly by the house," he said.
Bath and North East Somerset Council sent its "condolences to the families and friends of those who died" but said it was important to "wait for the results of the police investigation".
A spokeswoman said: "We take our responsibilities for road safety very seriously, including putting in 20mph limits where appropriate, such as on Lansdown Lane.
"In August 2014 traffic calming was also put in place on the road, including narrowing the road and widening the footway."
---
At the church service: Ali Vowles, BBC News
The church was absolutely packed.
The Reverend Patrick Whitworth, who decided to open the church, said he thought at least 350 people were there.
There were people sitting in all the pews, on the floor and a gallery area that overlooks the church was full too.
Mr Whitworth said he felt it was very important because he knew everyone was thinking about the community and he wanted to share that moment.
It was a beautiful service and I think it really did help those who attended.
---