Bristol Metrobus scheme's Hengrove phase gets £27m grant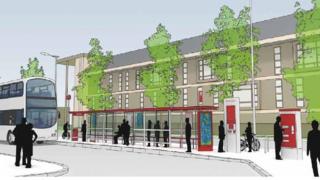 The second phase of a major transport project in Bristol and South Gloucestershire has secured a £27m grant.
The Metrobus Scheme will see buses having exclusive segregated lanes and guided busways to speed up bus journey times.
The money is for the South Bristol link between the A370 at Long Ashton and Hengrove Park.
Protesters say the project will destroy green space and wildlife habitats.
The scheme involves three routes: Ashton Vale to Temple Meads; Cribbs Causeway via Emersons Green to the city centre; South Bristol link between the A370 Long Ashton bypass and Hengrove Park.
All three routes have got planning approval.
So far £34m funding was confirmed in September for the Ashton Vale/Long Ashton Park and Ride route to Temple Meads. This is expected to cost £45m in total and is due to be completed by April 2016.
The £27m funding is a final sign-off for the cash so work can start on the ground, although detailed design work is under way.
The final sign-off for for £51m funding the northern route (Cribbs Causeway) is yet to be made.
The £200m project has been devised by the West of England Partnership (Wep) - an alliance between the four councils in Bristol, Bath, South Gloucestershire and North Somerset.
Wep has claimed the new metrobus line between Long Ashton Park and Ride to Hengrove route would cut journey times from 50 minutes to 12.