Grave containing thousands of bodies found at Eastville site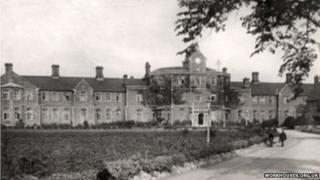 An unmarked mass grave containing the bodies of more than 3,000 paupers has been discovered in Bristol.
Bristol Radical History Group (BRHG) spotted a disused burial ground at the 19th century Eastville workhouse site on a 1902 Ordnance Survey map.
The group wants to raise £9,000 for a memorial, carrying all the names of the forgotten dead on the public open space now known as Rosemary Green.
Di Parkin, from BRHG, said: "The scale was immense, we were really stunned."
The Eastville workhouse, which was known as "100 Fishponds Road", had 1,200 inmates and was one of the largest of the 600 in England and Wales.
In the 1920s it became a home for the elderly and was demolished in 1972 to make way for a new housing estate.
The history group volunteers spent two years going through workhouse death registers at Bristol Record Office to confirm the burials.
They discovered the names and ages of nearly 3,500 workhouse inmates who were buried at the site between 1855 and 1895. These included 743 children, of which more than 100 were babies, many of them newborn.
Ms Parkin said: "I feel it is really wrong that poor people's lives would be so little valued that in death there would be nothing to remember them."
What is a workhouse?
- Dating back to 1652, they took in people who went there as a last resort when destitute
- Originated as part of the parish-based poor relief system funded by local rates and run by local Boards of Guardians
- Sir George Gilbert Scott, responsible for the Albert memorial, started his career designing workhouses
- Charles Dickens' character Oliver Twist was born and raised in a workhouse
- Parish workhouse buildings were often just ordinary local houses, rented for the purpose
- The workhouse era officially ended on 1 April 1930
Information source: The Workhouse by Peter Higginbotham
Gloria Davey, an estate resident who has joined the memorial planning group, said: "I am thrilled that something is being done to recognise these poor people at long last.
"I am appalled that they were treated with such lack of respect. It's heartbreaking."
Workhouse historian and author Peter Higginbotham said: "Eastville was unusual in having its own burial ground. Most workhouses buried their unclaimed dead in unmarked public graves in churchyards or municipal cemeteries."
BRHG have published the names of those buried at Rosemary Green on the history group's website .
The story of the unmarked paupers' graves will be told on Inside Out West on BBC One on 19 January at 19:30 GMT and available for 30 days afterwards on the iPlayer.