Swimmers brave chilly waters for Clevedon Marina swim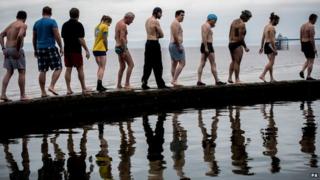 Dozens of swimmers have taken part in a traditional New Year's Day swim at Clevedon Marina.
About 40 people took to the water, which was about 6C (43F), in the Victorian seaside town near Bristol.
Those who took part at the event at Clevedon Marine Lake were raising money for charity.
Organiser Rose Hurley said: "It's a bit of a shock when you first get in but if you do it regularly you get used to the temperature."
"The marine lake is colder than the sea. It certainly gets you out of your hangover," she said.
"It really makes you feel fit and well after."