Southmead Hospital patient given brass bell to ring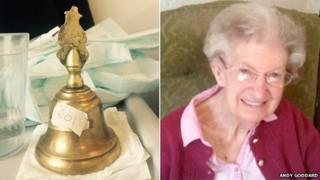 An 84-year-old woman with a broken hip was kept in a hospital room her son described as a "store cupboard" and given a bell to ring to get help.
Andy Goddard said the experience, which included his mother spending over an hour on a trolley in a chilly corridor at Southmead Hospital, was "laughable".
The hospital said that the room was not a cupboard and that it was used for medical procedures.
Its director of nursing has apologised to the family for their experience.
A number of teething problems have been encountered at the £430m hospital in Bristol since it opened in May.
'Freezing cold'
Mr Goddard said his mother - Molly - had a fall last Thursday and was taken to the hospital by ambulance.
"Then we were left in a hallway right opposite the doors for an hour and a half in a draught. The doors were open and it was blowing a gale and freezing cold.
"Mum's very frail, she feels the cold awfully. I had to wrap her in a blanket to stop her being cold."
He said they were moved around the corner after complaining and after spending the night in A&E they were admitted on to a ward.
"We were taken into what was a procedure room, which is basically used as a store cupboard, and we were given a brass bell as a call system, which I found laughable."
'Extreme pressure'
But he praised nursing staff who were "all very good and working hard".
The hospital's director of Nursing and Quality, Sue Jones, responded, saying emergency departments nationally were facing "increased pressure" and Southmead Hospital staff was doing the best it could for its patients.
"Mr Goddard's story about his mother's care illustrates the impact of the pressure that some of our staff are working under," she added.
"We are working extremely hard to make sure we can move patients and they are not queuing in the corridor. It is a time working under extreme pressure."
The hospital said the room which Mrs Goddard stayed in was a procedure room, where some medical equipment is kept, and not a store cupboard.
Regular call bells will be fitted to these rooms in the new year, a spokesman said, with bells used as an interim measure.
The room was "entirely appropriate for safe and dignified patient care", the spokesman added.
Mrs Goddard spent a day and a night in the room before having surgery on Saturday and then being transferred to a ward room where she was "recovering well".