Bristol 'drunk tank' stops 15 hospital admissions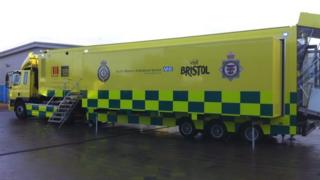 A mobile centre to treat drunk people in Bristol kept 15 people out of A&E over the weekend, South Western Ambulance Service has said.
The "drunk tank" is a converted articulated lorry to help people who have been drinking too much alcohol.
Sixteen people were admitted on Saturday and Sunday. One person did require A&E admission.
Ambulance spokesman Peter Brown said the service freed up ambulances to attend the "more sick and unwell".
'Aspiring' drunks
The facility, which costs more than half a million pounds, has been jointly funded by the NHS and the National Licensed Trade Association.
Mr Brown said keeping those 15 people out of hospital saved up to 70 hours of bedtime in hospitals.
"They would be normally taking up a bed for somebody who does need the full scope of hospital care," he added.
Last Christmas, a pilot facility in the city ran for five nights and cared for 46 patients. Four of those were transferred to hospital.
Mr Brown said: "This weekend we saw people who became so intoxicated they were found on the streets having wet themselves, clearly that is not acceptable.
"We had other instances where people started to become violent towards us... we also saw people on social media aspiring to get so drunk to end up in the Alcohol Recovery Centre."
Mr Brown said the ambulance service was working with alcohol addiction charities to offer early intervention help to those being treated in the centre.