Bristol mobile 'drunk tank' staffed over festive season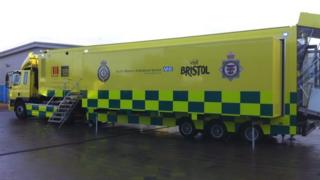 An articulated lorry converted into a mobile "drunk tank" is being staffed in Bristol over the festive season.
The facility will be used to care for people who have drunk too much, in order to take some of the pressure off ambulance crews and hospitals.
It is jointly funded by the NHS and the National Licensed Trade Association.
Last Christmas a pilot facility in the city ran for five nights and cared for 46 patients. Four of those were transferred to hospital.
This year, as well as the new mobile facility in Bristol, an alcohol recovery centre (ARC) equipped with beds and showers is being offered in Southport on Friday and Saturday nights until 3 January.
The National Licensed Trade Association hopes to roll out more centres elsewhere in the country over the next 18 months.
The phrase "drunk tank" is an export from the US, where the system is already in operation.
This year the South Western Ambulance Service's mobile ARC will be in operation in Bristol on 17, 18, 19, 27 and 31 December.
The service said patients would be assessed on arrival and then supervised by ambulance staff as they sleep off the alcohol, drink water and warm-up.
It added it was "the first ambulance service to have such a purpose-built vehicle of this kind".
The trust will continue to operate it as a mobile treatment centre in the South West region throughout the year.
Pete Brown, from the service, said they cover "a very large area and there are many events across our patch which will benefit from this facility".
Up to eight patients can be cared for at any one time, and the lorry also includes a reception and patient waiting area, toilets, showers, infection control and staff welfare facilities.