Bristol asylum campaign growing over signing-in relocation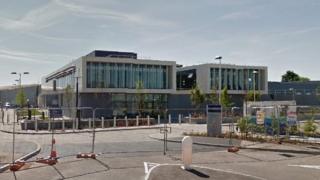 A campaign against demands placed on immigrants to regularly "sign in" is gathering pace in Bristol.
More than 500 asylum applicants make a 14-mile (22.5km) round trip to register, leading to an "unbearable" situation according to Dignity Bristol.
The issue has arisen since the Home Office relocated its Bristol reporting centre from the central Trinity police station to Patchway near the M5.
Support is offered to those with travel difficulties, the Home Office said.
Bristol Dignity has so far arranged a protest march and says it has more than 800 signatures on a petition campaigning for an end to signing at Patchway and to reduce the signing frequency.
Regular reporting 'vital'
Bristol City Council has also voted in favour of lobbying the government "to seek an urgent resolution to make a more central location available as soon as practicable".
Mayor George Ferguson told his council on Tuesday: "I will absolutely work with the police and crime commissioner to lobby the Home Office to see if we can get a much more satisfactory arrangement."
Campaigners say the extra travel stress is adding to an already difficult situation faced by asylum applicants, some of whom battle anxiety and depression.
A Home Office spokesperson said: "The relocation of our reporting centre in Bristol has been necessary because of the closure of the police custody suite at Trinity Road police station.
"Regular reporting to the Home Office is a vital part of our work to progress cases as quickly as possible, to encourage the voluntary return of people who have no legal right to remain in the UK and to arrest and remove offenders where necessary.
"We provide support, considered on a case-by-case basis, for those who have difficulties travelling to Patchway to report."