Bristol parking: Survey suggests council 'not listening to concerns'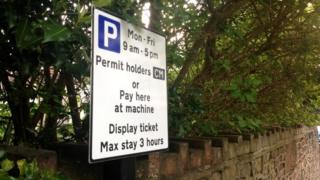 A survey about a blanket roll-out of residents' parking zones in Bristol suggests more than 80% feel the council is not listening to their concerns.
The study was set up by businessman Mark Moran who questioned the way the scheme to deter commuter parking is being implemented by the city council.
Mr Moran said he had received more than 4,400 responses so far with 84% against a city-wide introduction.
Bristol mayor George Ferguson said the survey was "worthless".
"It's not a 'survey' or 'poll' but a 'campaign' totally lacking any scientific rigour," he said on Twitter.
His views were echoed on Twitter by the Cliftonwood RPZ campaign group who claimed the survey was "biased" and "not distributed in all areas".
The council earlier said it welcomed "genuine feedback" contributing to a "balanced dialogue" around the scheme.
'Frightening impact'
Mr Moran said he hoped his e-petition on the council's website would get more than 3,500 votes sparking a council debate.
"It doesn't matter if you are for or against - the council is riding roughshod over the residents by imposing the scheme and the impact on the whole city is frightening," he said.
Meanwhile, the survey also revealed:
87% think a cheap efficient public transport system should be in place first
79% would support reversal of existing and cancellation of new schemes
78% think business will close as a result
The residents' parking scheme was introduced by elected mayor George Ferguson and has divided public opinion.
In April, Clifton traders drove a tank through the area protesting at the "lack of consultation" and handed in a 5,000-name petition.
Then in September, a number of major employers including the university and a hospital trust called for a rethink of the city-wide RPZ.
But those in favour believe the measures will make it easier to park outside their homes, make the streets safer and reduce the number of commuters "circling" trying to find a space.
And earlier in the year residents in three roads in Redland asked the council to extend the scheme to cover their properties.