Bristol mayor George Ferguson supports future referendum call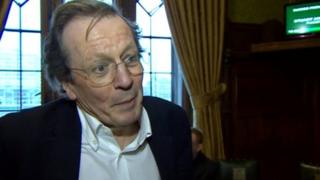 Bristol's mayor has said he is happy to write to the government calling for a change in the law to allow a referendum at a later date over his post.
Bristol is the only city with an elected mayor which does not have the right to review the mayoral system.
City councillors agreed on a motion calling for George Ferguson to write to the Secretary of State for Communities and Local Government, Eric Pickles.
The call was backed by Labour, Conservatives and Liberal Democrats.
'Horrified'
Labour Leader Helen Holland, who seconded the motion, told the council this was not a vote about George Ferguson but one about local democracy.
"It's not about undoing what happened in 2012 it's just about making sure Bristol has that right," Ms Holland said.
"In an era of every party talking about more devolution to local authorities, this has to be corrected."
Speaking during the debate Mr Ferguson said he backed the calls but warned of a return of what he called the "bad old days" of "condemned politics" - and this was why "the people of Bristol had voted for a mayor".
"This is why the city is currently punching above its weight and why people from outside this council are horrified at the behaviour of the politicians in its chamber".
The debate was sparked after thousands signed a petition calling on the government to grant Bristol the right to hold a further referendum on the future of the mayoral system of governance.