Bristol assistant mayor Gus Hoyt quits after swearing on Twitter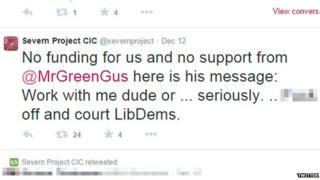 One of Bristol's assistant mayors has quit his post after swearing in a private message on Twitter.
Green Party councillor Gus Hoyt used a four-letter expletive in his direct message response to Steve Glover who had asked for more land to expand a city farm project.
Mr Glover had then publicly tweeted Mr Hoyt's reply.
Mr Hoyt said he "should never have done this" and apologised for anyone he may have offended with his message.
"I am stepping down from the Mayor's cabinet as a result," he added.
'Expected some respect'
Mr Glover said he was returning from Scotland where he had been talking about urban farming when he began a Twitter discussion about the Severn Project with Mr Hoyt.
"On the way back I sent a private message to Gus to ask him why there was so much support in Scotland and very little in Bristol and that's when he replied with the tweet," Mr Glover said.
He said that he expected "some respect from my elected representative".
He added: "We're trying to find out why we've got a perceived lack of support from the local authority."
Last year Bristol's elected mayor George Ferguson used the same word during a discussion with member of the public about local democracy.
Bristol City Council has declined to comment.