Bristol Children's Services 'need improvement' says Ofsted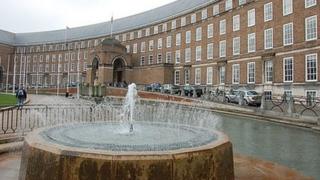 The support Bristol's Children's Services gives to young people in care is not "good enough", Ofsted has found.
Looked after children are not being helped to "do well at school" and those leaving care are "not supported", a report by the watchdog said.
It said the city council was "not delivering good protection, help and care" and "requires improvement".
Bristol City Council said it welcomed the "constructive feedback" and was working to address the issues.
In a report released earlier, the watchdog said "too many" children in care "do not achieve well" in school, "persistent absence" was high and improvements had not made a "sufficient difference".
It also said "unacceptably low" numbers of young people leaving care were in education, training or employment and not enough had been done "with sufficient urgency to improve this situation".
The latest inspection, which took place in September and October, also found some children at risk of child sexual exploitation (CSE) did not have assessments or updated reviews in "line with risk".
But "despite this", inspectors said there had been an "improved identification" of CSE cases and a "determination" to pursue prosecution.
'Major concern'
Bristol Mayor George Ferguson said the report showed "significant strengths" as well as areas for improvement.
"They have highlighted our commitment to preventing and disrupting child sexual exploitation, and our strong pursuit of convictions - evidenced recently in Operation Brooke," he said.
"But it is of major concern that half our young people, when they leave care, lack employment, further education or training."
John Readman, the city council's strategic director for people, said the authority recognised it was "not doing well enough" for care leavers but was "determined to improve their prospects".
"The inspectors acknowledged that we have good plans in place to improve and we will continue to strive to deliver the best possible services for all vulnerable children and young people in Bristol," he said.