Bristol mother Charlotte Bevan missing with newborn baby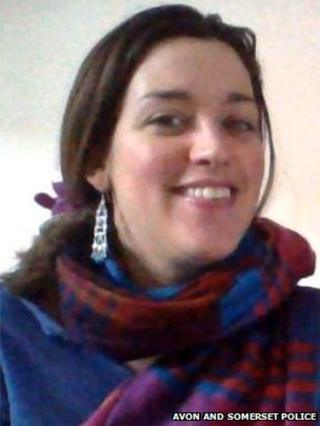 A mother and her four-day-old baby have gone missing from a hospital, prompting an "urgent" police search to find her.
Charlotte Bevan, 30, left St Michael's Hospital in Bristol between 20:30 and 21:00 GMT on Tuesday with her daughter, named Zaani Tiana.
She did not have a coat or shoes and is thought to have been wearing hospital slippers, while her baby was wrapped only in blankets, police said.
Police have searched areas close to the maternity hospital.
'Under pressure'
Nothing was found in the search in nearby Royal Fort Gardens and at the former Hospital for Sick Children.
But, a wheelie bin wrapped in tarpaulin was taken away by forensics teams.
Police said their searches have been based on several unconfirmed sightings of Charlotte near the hospital.
Ms Bevan's partner Pascal Mabrouck appealed for her to come home.
He said: "We care for her and we want her to return home and we just want some news that she is safe with our daughter.
"We don't want her to feel scared or under pressure."
He added: "The message is that if someone knows where she is, please tell her to come back home."
A spokesman for Avon and Somerset Police said: "Charlotte may appear confused and worried and her baby is inappropriately wrapped for the cold weather.
"We are concerned for both Charlotte's welfare and that of her baby, and are urging Charlotte to let us know that she and her baby are alright."
'Out of character'
A spokesman for University Hospitals Bristol, which runs St Michael's Hospital, said Ms Bevan discharged herself for "reasons unknown to us" and there were no signs she was planning to leave.
"Charlotte and her baby were seen by staff at 20.30; when staff went to check on her at 21.05 they found Charlotte and her baby missing and immediately sounded the alarm.
"We are working closely with other agencies to establish that Charlotte and her baby are safe."
Access to maternity wards is restricted by a "door release" and CCTV. It is not clear how Ms Bevan left the hospital.
Friends have described Ms Bevan's disappearance as "out of character".
Writing on Avon and Somerset Police's Facebook page, Isaac Jack McCardle described searching for the mother and baby in the hours after she disappeared.
"I know her and her partner. This is out of character," he wrote.
"I was out on the streets with a friend for over three hours and searched almost every road, park, alleyway etc in the area as well as high streets and found nothing.
"We talked to a police officer who was patrolling in a car and told us she'd not yet been found. I was in a warm coat and now I'm back home and chilled to the bone so it is worrying."
'Sudden departure'
Ms Bevan, from Bristol, is described as white, around 5ft 8in tall, of average build with dark wavy hair.
She was thought to be wearing a black top and black trousers when she left the hospital on Southwell Street, while the baby was in blue and white striped and coloured blankets.
Avon and Somerset Police have sent out a series of tweets appealing for information since Miss Bevan and her daughter went missing.
One tweet read: "If you're leaving a club in Bristol city centre and see missing mum Charlotte Bevan and 4 day old baby. Ring 999."
Det Insp Lindsay Shearlock, who is leading the search, said: "It's a sudden departure shortly after 20:30 last night.
"We're not clear why she left when she did, nobody was notified so we're really concerned for her and the baby.
"She hasn't done anything wrong, we just need to be sure they're both safe."
Officers searched the city centre overnight and appeals have been made to bus drivers, taxi drivers, early commuters and shift workers to look out for Charlotte and her daughter.
Anyone who sees Ms Bevan and her child is asked to call 999 immediately.