Bristol's Colston Hall £100,000 feasibility study criticised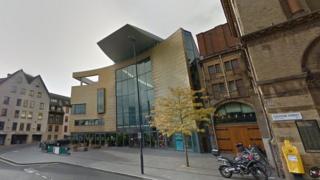 Plans to spend £100,000 on "another" study to redevelop a Bristol hall have been criticised by city party leaders.
Mayor George Ferguson wants a "fresh" feasibility study of Colston Hall, using some of the £3.9m raised in a crackdown on council tax discounts.
A £45m transformation of the council-owned venue is due to begin in 2017.
Labour leader Helen Holland said: "The hall does not need another feasibility study, what it needs is a commitment to support the transformation programme."
The £3.9m windfall follows a review of the single person and second home council tax discounts.
One of the suggestions for the money is a study into the "opportunities for development" of Colston Hall and third-party funding.
'Delaying tactic'
Although "no final decisions" have been made, leaders of the four main parties have "collectively" raised their concerns.
"A full options appraisal, economic impact assessment and feasibility study have already been commissioned and carried out," said Ms Holland.
"Furthermore, a dilapidation survey was carried out by the council two years ago - the hall does not need another feasibility study."
Conservative leader Mark Weston said instead of an "unnecessary feasibility study", the money should be "used towards a more useful aspect of the programme".
And Liberal Democrat leader Gary Hopkins said they were "extremely alarmed" the proposal was "just a delaying tactic".
"A clear and specific committal from the mayor will lever in so much extra funding for Bristol," he said.
Mr Ferguson was not available for comment.
Work on the 1860s venue, which includes a larger stage, new balconies and seating, is due to be completed by 2019.