Fovant Down badges: Giant chalk poppy to be cut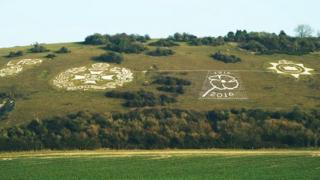 A giant chalk poppy is to be carved into the side of a Wiltshire hill as a culmination of the World War One centenary.
The 25m (82ft) emblem will be cut out of turf at Fovant Down and will be the first new feature for almost 50 years.
It will sit alongside the eight army crests, some created as far back as 1916.
Richard Bullard, from the Fovant Badges Society, said the poppy was chosen as "an image that we can all relate to".
The poppy will be the first badge added to the hill since 1970 when troops from the Royal Corps of Signals spent six weeks cutting their regimental emblem.
"We want to ensure that the badge is visible from the A30 road lay-by," said Mr Bullard.
"But the overall size will be limited to 25m so as not to distract from, or overawe, the current badges."
With Scheduled Monument Consent from English Heritage, the society plans to start constructing the chalk figure in 2016.
'Back-breaking work'
Mr Bullard said: "From the records we have, the badges took about three months of hard back-breaking work.
"And there's a tale of them being up there at 4 o'clock in the morning, cutting the badges before duty and then sliding back down the hill on their shovels.
"But building it will prove so many myths and we're sure those soldiers stationed at Fovant 100 years ago would have understood and applauded our desire to follow their example."