Shrien Dewani: From dream wedding to nightmare honeymoon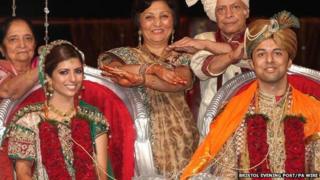 The case against Shrien Dewani, the British businessman accused of plotting the murder of his Swedish bride on their South African honeymoon, has been dismissed by a judge in Cape Town.
It was supposed to be the dream wedding. Millionaire Shrien Dewani married Anni in a lavish ceremony in Mumbai. And to follow the dream wedding was the dream honeymoon.
But Cape Town would turn out to be their worst nightmare.
The events of 13 November 2010 would end with Anni dead after being shot in the neck in the back of a taxi and Shrien's life turned upside down.
But the wheels of what happened that night were put in motion days before. Zolo Tonga, a taxi driver who operated an airport shuttle service, picked up the pair and took them to the Cape Grace hotel.
On the way, he offered to act as their tour guide and show them around. It was an offer that Mr Dewani would take up with fatal consequences.
During the subsequent trial, the short marriage between the Dewanis would come under the microscope.
The court case revealed that Mr Dewani was bisexual and had been seeing a German male prostitute before his marriage.
But intimate messages between the married couple were also laid bare in court.
As both pulled up at the Cape Grace hotel they were a picture of happiness, but behind the scenes there was tension, as well as love.
In one sequence of messages, the couple appeared to engage in coded sexual conversation using Blackberry Messenger, referring to each other's genitals as Fred and Wilma.
But in other messages Mrs Dewani accused her husband of wanting to get out of the marriage. Mr Dewani replies: "I love you. You know that."
---
Shrien and Anni's text messages
4 November: Anni says to Shrien "Thinking of Fred" before telling him she's "eating at Nando's, mmmm". The pair also discuss buying a bed from a shop at Cribbs Causeway, Bristol.
But, later in the day, the pair argue on email with Anni saying "You did say if u saw in chrystal (sic) ball how this marriage would been like then you wouldn't got married".
Shrien replies in the early hours of the next morning that he "did NOT say I regret things".
5 November: Anni says she "can't even sleep at nights" and asks "seriously do you want me to leave you?"
She then says: "I don't want an insecure man or a man that feelings doesn't come natural that you have to force yourself." She adds "I am ready to pack and leave and this is not a joke".
Anni tells Shrien he "can't keep any surprise" after finding out their honeymoon will be in South Africa.
---
It is this tension in the relationship that, the South African authorities argued, led Mr Dewani to seek a hitman in Cape Town - and for someone to release him from a marriage he did not want to be part of.
They argued that Mr Dewani conspired with three men - shuttle taxi driver Zola Tongo, Mziwamadoda Qwabe and Xolile Mngeni - to have Mrs Dewani killed.
Soon after their final meal together on 13 November 2010, prosecutors argued that Mr Dewani had arranged for the taxi he and his wife were travelling in to be hijacked.
The businessman was released unharmed but Mrs Dewani was driven away before being shot dead, the court heard.
The murder of a beautiful young bride on her honeymoon made headlines around the world.
But the killing remained mired in confusion.
Mr Dewani swiftly returned to the UK and began receiving medical help for an acute stress disorder, spending his days sitting in a camper van outside a Bristol hospital.
But in South Africa, taxi driver Tongo made a sensational claim. He told a court he had been paid 15,000 rand by Mr Dewani to kill Anni. Exchange rates at the time showed that equated to just £1,000.
It sparked a four-year extradition battle and pleas from Mrs Dewani's family for Mr Dewani to return to Cape Town to give "answers" about what happened.
Mrs Dewani's sister, Ami Denborg, said her death and the legal battle had been "devastating" for them.
---
Profile: Shrien Dewani
Shrien Dewani was a respected businessman who was a wealthy care home owner in Bristol, England
He seemed to have it all: a supportive family, a top education and a successful business giving him the means to provide for his loved ones
Mr Dewani was privately educated at Bristol Grammar School, which boasts a 500-year history and costs more than £11,000 per year
He read economics at the University of Manchester and qualified as an accountant
Following university he began work at accountancy and consultancy giant Deloitte in London when he met his future wife, Anni, a Swedish national, through mutual friends
The legal battle culminated in Mr Dewani being flown to Cape Town in October to face the world's media in Western Cape High Court.
It soon became clear the prosecution's case was full of holes and it was not a surprise when it fell apart.
Tongo was described as a "completely unreliable witness" who contradicted others who gave evidence and whose explanations were "laughable".
His evidence was crucial to the prosecution's case. He was the only person to speak to both Mr Dewani and the people who carried out the murder.
Defence lawyer Francois van Zyl summed up the importance of the driver's evidence, saying he was the "pillar on which this case rests and if that pillar falls then the whole case collapses".
And, it transpired, that is what happened.
In fact, the newly-weds were innocent victims of South Africa's violent criminality.
During the hijacking, cash which Mr Dewani said was for a helicopter ride was taken, as was his watch and other items.
According to the country's statistics, 700 people were murdered in Gugulethu township in the five years before Mrs Dewani's death.
She has joined that number and the death toll continues to rise. But unlike most, her death has been lived out in the full glare of the media.
---
The murder conspirators
Zola Tongo was the couple's taxi driver who recruited Mziwamadoda Qwabe and Xolile Mngeni to murder Anni Dewani. He was jailed for 18 years following a plea bargain
Mziwamadoda Qwabe was jailed for 25 years for his part in killing Mrs Dewani during the staged hijacking
Xolile Mngeni was convicted of firing the shot which killed Mrs Dewani and was branded an "evil person" by the judge who sentenced him to life in prison. He had been diagnosed with a rare brain tumour, which was removed in 2011 and his trial was repeatedly delayed while he had surgery. In October Mngeni died in prison
---