Crowdfunding bid for £6m surfing lake near Bristol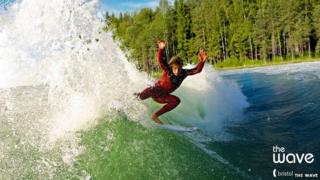 A crowdfunding campaign has been launched to raise £150,000 for a man-made surfing lake near Bristol.
The Wave: Bristol is estimated to cost £6m and due to be built on greenbelt land outside Easter Compton in Almondsbury.
Using new technology to create a 1.6m (5 ft) wave every 30 seconds, the lake will boast the "world's longest waves".
Nick Hounsfield, project co-founder, said the campaign gave the opportunity for "community investment".
Plans for the 2,790 sq m (30,000 sq ft) attraction were passed by South Gloucestershire Council in June.
As well as the "centrepiece" surfing lake, there will be a natural swimming lake, campsite, surf shop and gardens.
"We always promised that we would enable the public to get involved in the project and the money will be ring-fenced and only drawn down once construction starts," said Mr Hounsfield.
"We're in advance conversations with three or four key investors from the Bristol region and we envisage all being in place mid-January to early February and the lake element open next October."
The £150,000 campaign is due to run from 24 November to 22 December, with the money raised going towards the Making Waves Foundation and the sustainability plans for the site.