Man dead and woman in 'life-threatening' condition after Chipping Sodbury crash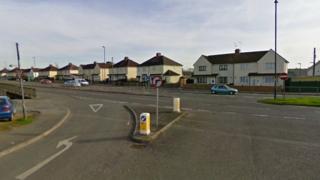 A man has died, and a women is in a life-threatening condition, after a crash between a car and a lorry on a busy route near Bristol, police say.
The collision happened on Hounds Road, at the junction with Cotswold Road in Chipping Sodbury, at 11:15 GMT.
The man died at the scene shortly afterwards, while the woman was taken to hospital with serious injuries. The HGV driver was not injured.
Police said they were in the process of notifying next of kin.
The force also warned there would be severe congestion in the Chipping Sodbury area, with road closures expected to be in place until the evening.
A statement added: "There is likely to be serious congestion in the area because lorries are unable to use a nearby bridge in the area because of a weight restriction."