Shrien Dewani trial: Lawyers to apply for dismissal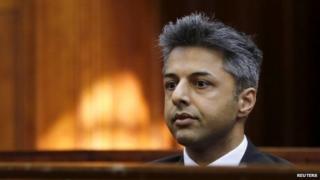 Lawyers for Shrien Dewani, the man accused of organising the murder of his wife on their honeymoon, are to apply for the case to be dismissed.
Swedish national Anni, 28, died in Cape Town, South Africa in 2010 after an apparent carjacking that went wrong.
Mr Dewani, 34, of Bristol, has pleaded not guilty to charges including kidnapping and murder.
Defence lawyer Francois van Zyl said he would apply for the dismissal after the state rested its case on Monday.
Mr Dewani is on trial accused of plotting for his wife's murder with three men, shuttle taxi driver Zola Tongo, Mziwamadoda Qwabe and Xolile Mngeni in November 2010.
Mngeni was sentenced to life in prison for Mrs Dewani's murder but died in prison, while Qwabe was sentenced to 25 years.
Tongo was sentenced to 18 years following a plea bargain deal.
'Surprise helicopter trip'
The prosecution claimed Mr Dewani conspired with the trio to stage the hijacking, for which he paid 15,000 rand - less than £1,000 at the 2010 exchange rate.
Mr Dewani maintains the money was actually for a surprise helicopter trip which Tongo was helping to arrange.
The case for the dismissal will be argued before Western Cape High Court judge Jeanette Traverso on Monday.
During the trial, the judge has dismissed sections of the state's case, describing evidence about Dewani's sex life as irrelevant.
Mr Dewani admitted at the start of the case that he is bisexual and one of the prosecution witnesses was a male prostitute who he had paid to have sex with.
Mr van Zyl said they would make an application to the judge under section 174 of South Africa's Criminal Procedure Act.
If the judge feels there is insufficient evidence to convict at the close of the prosecution's case then the court can return a not guilty verdict.