Bristol Downs car-free Sundays petition attracts 4,000 signatures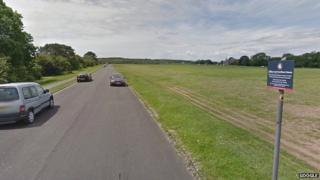 More than 4,000 people have signed a petition calling for a Bristol road to be closed for four "family friendly" cycling mornings next year.
In 2015, the city is European Green Capital and campaigners want the Circular Road around the Downs to be shut to traffic on four Sundays.
Petitioner Vicky Cracknell, said: "It wouldn't just be in the interest of cyclists but runners and walkers too."
The Downs Committee said it may not be possible because of Highway rules.
Cycling on the Downs is forbidden due to an 1861 bylaw, according to campaigners, who say there are very few opportunities for "safe traffic-free cycling" in the area.
'Number of objections'
"We've been doing some surveying on the Downs, over the last couple of months, and it is very quiet in terms of motorised vehicles on a Sunday morning," said Ms Cracknell.
But councillor Peter Abraham, from the Downs Committee, said the request to close the road "for some children to cycle up and down" would be "very difficult to agree on".
"One has to go through a procedure for road closures and already we're receiving a number of objections to the road being closed on a Sunday morning," he said.
"We're looking at the whole of cycling and the Downs and how we can make it more family friendly - and I think it might well mean that we could have an occasional car-free Downs."