Calls for reindeer ban at Bristol shopping centre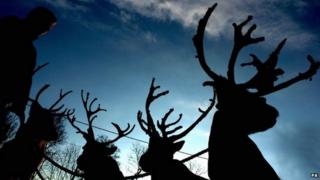 An animal rights group has written to a Bristol shopping centre, asking it to abandon plans to use live reindeer in a Christmas display.
People for the Ethical Treatment of Animals (Peta) wrote to The Mall at Cribbs Causeway, where the animals are due to go on show outside on Sunday.
They say the animals will be put under stress and at risk of injury.
The company supplying the reindeer said it took the welfare of its animals seriously.
In the letter, Peta said the use of reindeer in public displays "puts them in close contact with members of the public, causing the animals stress and putting them and humans at risk of injury should the animals run amok".
'Domesticated for centuries'
It also said that reindeer can transmit diseases such as salmonellosis, ecthyma, toxoplasmosis and ringworm.
Tilly Smith, the director of Conservation at Cairngorm Reindeer which will supply the animals, said they were domesticated.
"Our reindeer in the Cairngorms have many thousands of people that visit them every year in the hills.
"When we get the reindeer ready to do these Christmas parades they are gradually introduced to new sights and sounds."
The reindeer are due to be at The Mall's Christmas display from 09:30 until 14:00 GMT on Sunday.
The Mall's Jon Edwards said the reindeer were "all healthy animals and are well looked after".
"For a few weeks each year they take the trained reindeer on a Christmas tour, helping to generate income to maintain their natural lifestyle in the Highlands for the rest of the year, as they have done for over 25 years.
"Reindeer have been domesticated for centuries and the more tame individuals are chosen from the Cairngorm herd, who live in 10,000 acres of natural habitat alongside rescued reindeer."