Shrien Dewani 'changed mind over marriage'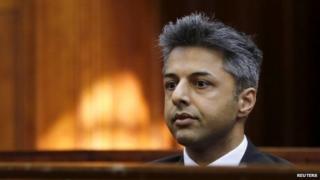 A man accused of organising the murder of his wife while on honeymoon told her he changed his mind about marriage, a South African court has heard.
Swedish national Anni Dewani emailed husband Shrien claiming he had told her if he had known marriage would be "like this" he "wouldn't have got married".
Three days later, a taxi the pair were travelling in was apparently carjacked and Mrs Dewani, 28, was killed.
Mr Dewani, 34, of Bristol, denies any involvement in the murder in Cape Town.
He is on trial accused of setting up the plot for Mrs Dewani's murder with three men, shuttle taxi driver Zola Tongo, Mziwamadoda Qwabe and Xolile Mngeni in November 2010.
---
---
He has pleaded not guilty to charges including kidnapping and murder.
The emails from Mrs Dewani go on to say he should have told her of any doubts before the wedding.
"Because we had a Bollywood wedding it does not mean we are Bollywood actors and just pretend everything is good when it isn't," one email said.
"It will just end up with us hating each other."
In another email she warns that he "really hurt" her.
"It is very bad of you to tell me things you told me after marriage. Then you should have told me this before. I don't want an insecure man or a man whose feelings does not come naturally."
In reply, Mr Dewani said that his wife had asked him to be honest "so I was".
"I did not say I regret things. I said very clearly that I did not expect to feel the way I was feeling," he said.
"I love you. You know that. Surely that is the most important things. The rest will come."
The emails were found on Mrs Dewani's Blackberry phone. The trial continues.