Avonmouth bio-energy plant plans rejected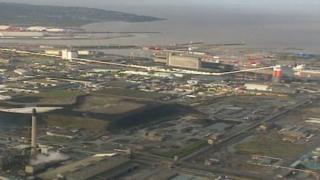 Proposals for a bio-energy plant at Avonmouth have been turned down by Bristol City Council planners.
The application from Nexterra and Balfour Beatty for the facility, next to the Chittening Trading Estate, was rejected by five votes to three.
Plans for the plant, which would generate power from waste wood, had been recommended for approval.
The chairman of the council's planning committee said a dispute over air quality data had led to the rejection.
'Element of uncertainty'
Liberal Democrat Alex Woodman said: "The committee felt they didn't have enough information to make a sound decision.
"We were being told one thing by the applicant, but local residents were quite clear there was still an element of uncertainty over the impact of air quality of this plant."
Campaigner Claire Hayes said she was "shocked" the scheme had been rejected.
"I still can't quite believe it. It shows if we all stick together we can make things happen for the better," she said.
Mr Woodman said he would be "surprised" if if there was not an appeal from the developers against the decision.
"I'm sure there'll be further debate to be had."
People living in the area have complained about "toxic dust" from nearby works in recent years.