Bristol 'ravers' charged with police assault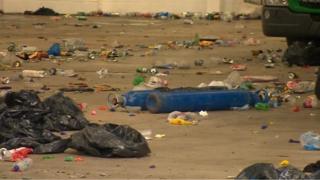 Three people have been charged after police were pelted with missiles as they attempted to break up an illegal rave in Bristol.
Officers were called to the rave in Avonside Industrial Estate, off Feeder Road, in the early hours of Sunday.
More than 1,000 people attended the party and three officers were injured before the event was closed down by 10.30 GMT, police said.
The three were charged with assaulting officers and will appear in court.
Nicholas John Daltrey, 29, of Knowle Road, Lora Emily Stevens, 22, of Park Road, Warmley and Sophie Grey, 22, of Langovan, Monmouth were all bailed.
Six other people arrested at the rave were also released on bail.
Det Insp Dom Graham said: "This demonstrates the substantial risks posed to safety when large-scale events are not properly managed and licensed."