PCC Sue Mountstevens made 'serious error of judgement'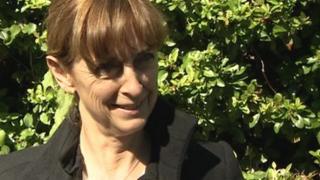 A police and crime commissioner made a "serious error of judgement" by revealing the name of a whistleblower, an investigation has found.
In May, Avon and Somerset's Chief Constable Nick Gargan was suspended over allegations he made inappropriate advances to female staff.
The Police and Crime Panel found Sue Mountstevens breached her own code of conduct by telling Mr Gargan who had made the allegations.
Last week, Ms Mountstevens apologised.
The panel said it had published its findings "as a matter of public interest" and said it was "clarifying its finding of a serious error of judgement, as opposed to a 'mistake'".
'Serious error'
Nigel Ashton, the crime panel's chairman, said the complainant provided "sensitive and personal information" to the PCC.
"In doing so [the complainant] had a reasonable expectation of privacy," Mr Ashton said.
"The panel found the commissioner demonstrated a serious error of judgement, not only in revealing their identity but by doing so to the person at the centre of the allegations.
"We acknowledge the commissioner has publicly and privately apologised for her actions, though it is regrettable the commissioner chose to issue a public statement before the process concluded.
"In response, I must underline that we take this matter very seriously and consider her lapse in judgement to be serious."
Mr Gargan remains on suspension and the PCC has until the end of October to decide whether there should be internal disciplinary proceedings.